@
tiksi@net
А то, что
https://hub.disroot.org/dav/
не открывается -- это бага, задумано так, или я тупой? :)
При попытке открыть браузером или смонтировать davfs получаю следующее:

<?xml version="1.0" encoding="utf-8"?>
<d:error xmlns:d="DAV:" xmlns:s="http://sabredav.org/ns">
  <s:sabredav-version>3.2.2</s:sabredav-version>
  <s:exception>Sabre\DAV\Exception\NotImplemented</s:exception>
  <s:message>There was no plugin in the system that was willing to handle this GET method. Enable the Browser plugin to get a better result here.</s:message>
</d:error>

@
jsv
Ситуация несколько прояснилась. WebDAV успешно работает через клиент Microsoft Windows.
Вероятно, опять же, лучшим вариантом будет обратиться за разъяснениями ситуации в @
Hubzilla Support Forum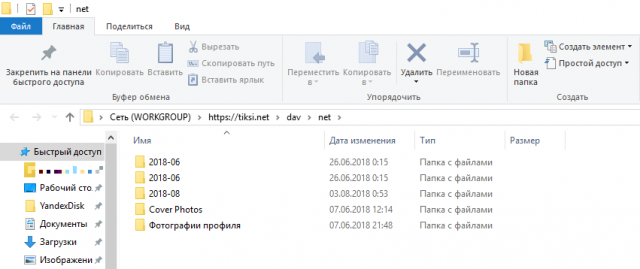 @
jsv
, рады сообщить что источник проблемы выявлен и устранён.
Теперь имеется возможность монтирования Hubzilla WebDAV в качестве внешней файловой системы.
Приносим извинения за причинённые неудобства.
Спасибо вам за внимательность и участие!